We will help you choose the perfect Santa Suit and Accessories. Perfect for your budget and type of event. Be it an office party, house party or the smart older kids or your local mall.
 How to select the right Santa Suit
The holidays are here already and many of our friends will be in need of a Santa Suit. The question is which one to choose. Don't worry, we have more answers than you thought there were questions for!
Different Santa Costumes and different Santa Beards for all different reasons!
Who is your audience? Remember you are playing a character and you have to make you performance believable!
Are you working as a Mall Santa in Lake Grove?
Will you be on a Fire Truck outside waving Selden?
Going to a Pub Crawl in Riverhead or Santa Con in Manhattan?
Office Party in Yaphank?
Carrying on a family tradition Huntington?
Starting a new family tradition in Smithtown?
Church Santa in Dix Hills?
Let's start with the beard and wig. For an office party, very young children or a fire truck driving by, you do not need anything spectacular but you still need to look the part. We recommend  the Promotional model or the Economical model.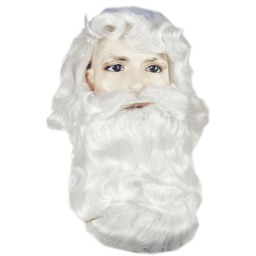 or if you are truly on a budget then, try is one out! 14 Inch Beard And Mustache It will work out for you in a pinch.
If the children are going to be close to you, it is important to have a realistic looking and feeling beard and wig set. Perhaps even more important than the suit itself! The kids will recognize the iconic red suit but may not understand the quality of the fabric. But a fake looking beard simply will not do. You need one that covers well, looks good and feels real. We carry high quality Santa Beard and Wig Sets in various cuts, lengths and colors. Some are so convincing that they have a built in scalp. Some have separate mustaches that you need to adhere with Spirit Gum and Remover. Don't worry, we have that too! This one is our best seller. CLICK HERE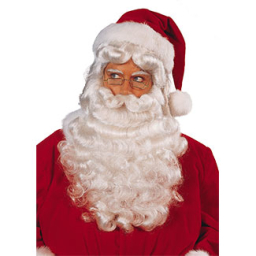 If by chance we happen to be sold out of either of these, we have plenty of other great choices for you. Just search our site.
Now let's take a look at some of the necessities!
– Your grand entrance will get the kids in a frenzy. Make them excited that Santa is coming. So ring those bells. And don't forget to Ho-Ho-Ho. This is expected of you!

Gloves - You have to cover your hands! The children know Grandpa's liver spots, Daddy's wedding ring, Uncle Mike's fingernails. Don't blow your cover by missing this very important accessory. We carry White Gloves in all sizes and red, green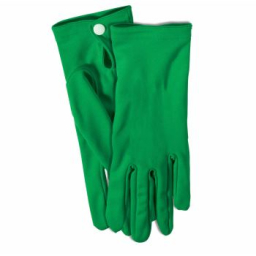 and black in one size fits most.
Glasses in round or rectangular, Eyebrows, Rosy Cheeks - The more you cover your face, the better off you will be. We even carry Blue
and Green Colored Contacts in different shades! As well as Prosthetic Noses. Enough said!
Toy bag – If you are delivering presents, you are going to need this. We carry three models. This is our most popular CLICK HERE.
Belly Suffer – Use a Santa Suit Suffer
, not a pillow. Pillows do not stay in place and the shape is wrong. We recommend two one for you belly, one for your back. This will create a great Burl Ives look.
Finally, let's pick the right suit for you.
Our Bright Plush comes in Standard and Extra Large sizes. Priced in the middle and great for any use. Commercial or Home use. It includes the Hat, Zippered Lined Coat with Pocket, Pants, Belt, Boot Tops and Gloves.
Need something fancier? We offer our Luxury Santa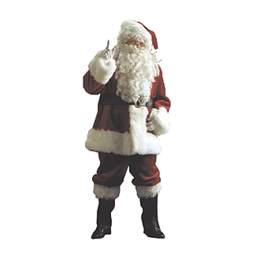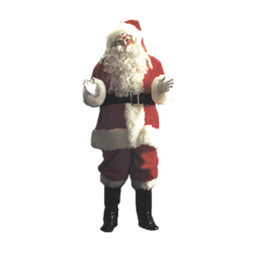 Santa, in three sizes. These suits are thick and luxurious. Top of the line materials. They include Hat, Zippered Lined Coat with Pocket, Pants, Belt, Boot Tops and Gloves.
Too over the top for you? Try the Deluxe Flannel pull over shirt with plush white trim, Hat, Belt, Pants and Boot Tops with White Tops. Just the right thing fit most of your needs.

One time use? Office Party? Infant or Pet Photo? Santa Con? Go with the Promo Santa Suit
We have it in two sizes.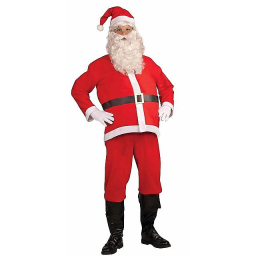 Includes – Hat, Shirt, Pants Belt and Black Boot Covers.
This is by all means not every style we carry! Please check our site for more selections.
We carry real boots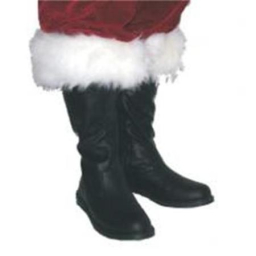 , boot tops with white trim that you wear with any black shoe, white cuffs that you add to any black boots. Deluxe Belts and replacement belts in different sizes. Suspenders, Hair White in two sizes and hair spray (in case anything is protruding from you wig, or to color your own beard and Wig Shampoo and Wig Conditioning Spray. These additions will make you a better Santa. But you do not have to do all of this at once. Each year, you can add on an upgrade you Santa costume and Santa Beard.
Don't forget we carry a variety Mrs. Claus, Elves, Snowman, Toy Soldiers, Grinch, Gingerbread Man, Sexy Santas Helpers and more! Just check the Christmas category on our web site.
If you have any questions, feel free to contact us any time. Call 631-928-5005 or email [email protected] Or better yet, stop by our shop. We are on Patchaouge Road (Route 112) at the border of Coram and Port Jefferson Station.